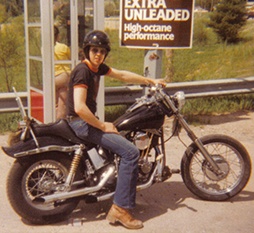 30 years ago, well, Saturday Feb 16th 1985 to be exact, Motor City Custom opened its doors for business! It was a dream for years to open our own bike shop, and in 1984 we put the wheels in motion to do so. From a small 900 square foot unit in a strip plaza on Bloor Street it all began. Prior to the shop opening, Ron was a mechanic at O.M.S. and I was a parts man at Ontario Truck Center. With Ron's mechanical background and my parts experience, we knew we could pull it off.
Back then the only choice people had for Harley parts or repairs was at the Harley Dealer, Ab's Motorcycle Shop, or you had to make the trip into Scarborough to see Donny at Heavy Duty Cycles. Oshawa really needed a source for parts and an alternative to the Dealer for service! We were warned of the dangers about starting up a new business, especially with your brother. But our Dad always told us when we were growing up, that you have to take care of your brothers. At the end of the day, they are your best friends. Ron and I, and our youngest brother Alan have always tried to live by that.
Well, we made it thru the first summer and winter and celebrated our 1st Anniversary!!! After 7 years we had outgrown our shop and it was time to move on to bigger and better things. We bought the building we are in now and over the years expanded to the property next door. With a bigger shop we had room to hire more employees. Our Brother Al came to work at the new shop with us and we hired our friend Paul, who had just graduated from the Motorcycle Mechanics Institute in Orlando, Florida. Later, both Alan and Paul were able to write their Motorcycle Mechanics licenses in Ontario.
In 1999 we were approached by The Indian Motorcycle Company to become a dealer. We started selling brand new Indian Chiefs in the spring of 2000 and in 2001 we asked Brock to come onboard and help us with bike sales. Brock already had experience with the Indian factory and with sales at the Toronto Indian Dealer. In 2008, Ron's oldest son Jamie (who was born in 1985) came in to work with us full time and became a licensed Motorcycle Mechanic in 2013.
As we approached our 30th Anniversary, a lot of our customers and friends have asked us if we ever thought we would do this for 30 years. Our standard answer is always "Hey, time flies when you're having fun!"
As somebody famous once said "Choose a job you love, and you'll never work a day in your life" Well, I can speak on behalf of all the guys here at Motor City Custom, we put in some long hours, but we haven't worked a day in 30 years!
Thanks for the ride!!!
Regards,
Bill Nicholson